Latest Posts
28 Nov 2015 | 10:29:00
This post is part of our Bangkok 2015 Trip Report and Itinerary. Do check out the full itinerary and our reviews here
The Fifth Food Avenue is the resident international food court at the MBK.
It is not just any ordinary food court, but one which is more up-market, luxurious and comfortable. Note that Fifth Avenue is not the only food court at
MBK
- there is another one at Level 6 which caters more to the masses - however, over there it could get so crowded that you may not be able to get a seat during meal times!
At Fifth Avenue, you not only get authentic Thai cuisine.
The food avenue also offers a selection of cuisine from the region such as Vietnamese, Indian, Japanese, as well as perennials such as Western food and grilled seafood. Coupled with good ambience, this food court does not disappoint at all.
How it works is like this - upon entry to the food court, each customer will be issued with a card which you use to swipe at each of the stall that you buy from. At the end of the meal, at the point of exit, simply pass the card to the cashier for payment.
Each of these cards entitles you to a free drink on the house as well! Be sure to get yours!
Despite the many food choices at Fifth Avenue, we ended up still ordering Thai cuisine - after all, we are in Thailand! Tommy ordered his favourite Pad Thai which tasted exceptionally good.
Followers of our blog would know that I sample Tom Yum soup everywhere I go, even at countries such as Australia (
Perth
,
Sydney
,
Blue Mountains
) and
Iceland
. So why not at Thailand itself!
I happened to love this version at the Fifth Avenue. There are several stalls selling Tom Yum soup at Fifth Avenue, but we eventually went for the one sold at the Thai cuisine booth. This one is just nice for me, with a good balance of spiciness and flavour.
Final Verdict
Having tried both Fifth Avenue and the food court at Level 6 at MBK, we'll say, pay the slightly extra price for Fifth Avenue and avoid the crowd at Level 6. In return, you get to dine in peace and enjoy some cuisine which is worthy of the slightly higher price.
This post is part of our Bangkok 2015 Trip Report and Itinerary. Do check out the full itinerary and our reviews here.
Bangkok . 2015 . Jul 11 - 14
We were in
Bangkok
in July
again
over the weekend for a short getaway after
our trip to Bangkok in 2013
.
Like
our previous trip
, this trip was purely a relaxing shopping and dining trip.
Here's our itinerary for the trip and some photo teasers.
If you have not booked your hotel for your upcoming trip to Bangkok, do check out the Best Hotel Deals of the Day in Bangkok now!
Day 1 - Thu (Jul 11)
1035 - Check in Flight
1335 -
Board Flight Cathay CX 712 to Bangkok
1500 - Touch down at
Bangkok Suvarnabhumi Airport
1545 -
Airport Rail to Phaya Thai Station
(
2013 Trip article
)
1615 -
Bangkok Sky Train (BTS) to National Stadium Station
(
2013 Trip article
)
1630 -
Check in at Ibis Bangkok Siam Hotel
1700 -
Shopping at MBK
1930 -
Dinner @ MBK Fifth Avenue
2030 - Back to Hotel
Not sure which hotel to book? Do check out the Best Hotel Deals of the Day in Bangkok now!

You might want to check out the Best Travel Packages from our Travel Partner Deal.com.sg!
Day 2 - Fri (Jul 12)
0700 - Breakfast @ Hotel
0830 - Cab to Platinum Mall
0900 -
Shopping @ Platinum Mall
(
2013 Trip article
)
1200 - Lunch @ Yum Saap Restaurant
1500 - Shopping @ Siam Square One
1800 - Dinner @ Mango Tango
2030 - Back to Hotel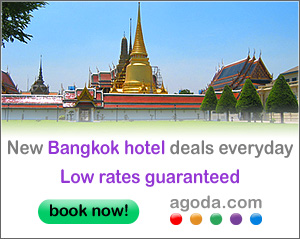 Day 3 - Sat (Jul 13)
0800 - Breakfast @ Hotel
0930 -
Shopping @ MBK / Tokyu
1200 - Lunch @ MBK
1300 - Cab to Platinum Mall
1400 -
Shopping again
! (
2013 Trip article
)
1800 - Dinner @ Fuji Restaurant
2000 - Visit Siam Square area
2030 - Supper @ After You Cafe
2130 - Back to Hotel
Day 4 - Sun (Jul 14)
0700 - Train to Airport
0800 - Breakfast @ Airport
0900 - Check in @ Airport
1150 -
Board Flight Cathay CX 713 to Singapore
1515 - Home Sweet Home
We hope our itinerary do help you in your planning for a quick getaway trip to
Bangkok
. Do share with us if you have any comments on the itinerary! :)
Do also check out the Best Hotel Deals of the Day in Bangkok now!
You might want to check out the Best Travel Packages from our Travel Partner Deal.com.sg!
We hope you enjoyed reading this article. To receive notifications on updates, subscribe to our blog via RSS feed and email.
Like us on Facebook @ Discover. Book . Travel and f
ollow us on Twitter @Discoverbooktra!
Do check out our Flickr photos & Youtube videos too!
25 Nov 2015 | 06:30:00
This post is part of our Bangkok 2015 Trip Report and Itinerary. Do check out the full itinerary and our reviews here
Speak to any local in Bangkok and they will most likely direct you to MBK to get the best shopping deals in Bangkok. MBK may pale in comparison to the glitzy malls in Siam Square, their goods may appear less fashionable than
Platinum Mall
, but it is still a treasure trove that you can plough through to find cheap deals.
Near to National Stadium BTS
The nearest BTS station is National Stadium BTS, but is also within walking distance from Siam station. From our lodgings at the
Ibis Bangkok Siam
, MBK was just a short walk away.
There are 8 floors in MBK that houses more than 2000 shops, each floor sorted by the category of products that the shops are selling. If you are in a hurry, then you will just need to concentrate on the product you are after.
Floors 1-3: Clothing, Shoes, Leather Goods, Luggage and Bags, Jewellery, Ladies' Accessories, Restaurants, Local snacks and delicacies.
Tip: Concentrate your efforts on these 3 floors if you are in a hurry because they would have most of what you are after. Clothing (especially T-shirts) are cheap although they will not be as stylish as what you would find at Platinum Mall.
Imitations Galore
Men's shoes and sandals are good buys at selected shops (
don't go to the big shops
), while the fashion for ladies' shoes are a bit lacking. As for leather products (ladies and men's bags and belts especially), many of them are imitations of the real branded ones. Some of them such as the Michael Kors ladies' handbags look quite close to the real deal and would cost typically about SGD $30-50, while others such as the Burberry imitations can look quite fake.
Haggling is a must at the MBK.
Prices can go down by half if you start walking away, but unless you are sincere about buying the stuff, don't engage the stall owner in bargaining. Most of the time, you will also be able to find similar stuff in other shops at the same level.
Recommended Shops
We can't remember which floor this was located at, but they sell stylish organizers of various sizes, configurations and materials to suit your needs. Either use them at the TV consoles to sort out your remote controls, or at the bedside to store your small personal belongings.
Some of the more expensive ones come with a rotating base. I personally bought one for my bedside to contain my electronic gadgets and accessories. Prices are not too expensive - we paid about SGD $20 for a medium sized one.
Recommended - buy towels at MBK! They are about half the price at Singapore and comes with good quality.
Not Recommended Items
Gold and jewellery shops are quite abundant at floors 1-3, but we won't invest time in looking at them, mainly because we couldn't afford it, and also because we can never be sure that they are the real thing.
One of those things that are sold everywhere in Bangkok are the spa and aromatherapy oils. We personally are users of essential oils, but we find that prices are actually not that cheap anymore in Bangkok, plus the quality are not good compared to the ones we bought in Singapore. So unless you are able to come across a reliable source in Bangkok, our advice - skip this.
Tokyu Department Store
The only department store at MBK is Tokyu, which occupies parts of floors 1 to 4. Things at Tokyu are very much more stylish than the rest of MBK, but they are also correspondingly much more expensive. We didn't spend any money at Tokyu, but we did go in to use their restrooms which are a lot cleaner than those at the rest of MBK.
Perhaps the best part of MBK is the presence of my favorite Bangkok store, Naraya - Level 1, just beside Tokyu and MacDonalds.
Floor 4: Electronics, mobile phones, CD and MP3.
Skip this floor if possible. We couldn't find any electronics nor accessories to buy despite walking through the entire floor.
Ironically, although this is the electronics floor, the only shops that were worth visiting were the few selling local snacks and delicacies. They are not exactly cheap, we actually bought ours at a shop at the first floor with better variety and prices.
Floor 5: International Food Court, Restaurants, Furniture
Go to the 5th floor to dine at Fifth Avenue, the Thai's version of an international food court. Other than that, the 5th floor is filled with shops selling home and office furniture.
Floor 6, 7 and 8: Cinema, bowling, karaoke, Food court, Souvenir shops
Unless you want some Thai entertainment, otherwise, skip these floors.
Summary
MBK can be covered in one day or less, if you take a targeted approach to zoom in on the products that you hope to buy.
Join us next as we explore the rest of Bangkok.
This post is part of our Bangkok 2015 Trip Report and Itinerary. Do check out the full itinerary and our reviews here.
Older Posts »